The Construction Marketing Awards showcase the construction industry's effectiveness in marketing, raising the profile of marketing professionals and their achievements. Just think of what you could gain by entering!
The key dates for the 2019 Construction Marketing Awards are:
Monday 8th April – The Construction Marketing Awards open for entries
Entries are invited from any organisation within the Built Environment, including architects, engineers, specialist consultants, contractors, developers, manufacturers, specialist suppliers and service providers.
• Read the terms and conditions of entry
• Start your entry online, save and amend as you go
• Read the Rules of Entry document
• Check your entry meets the judging criteria for the categories you are entering
• Check you have included all required images, logos and figures demonstrating ROI
• Check over your entry again!
Friday 20th September – The Construction Marketing Awards close for entries
• One final check before clicking the submit button
• Sit back relax and wait for the finalist to be announced
End of October – shortlist announced!
If you are lucky enough to be listed on the shortlist then make time to place your finalist logo on all your communications! Then book your place at the Gala Awards Dinner.
Thursday 28th November – The Construction Marketing Awards Gala Awards Dinner
Dust off your glad rags and get ready to party! This a great night!! And of course the winners for 2019 will be announced, good luck.
Place these key dates in your diary and start compiling the information you need for your Construction Marketing Awards entry now!
Print off this handy poster as a reminder: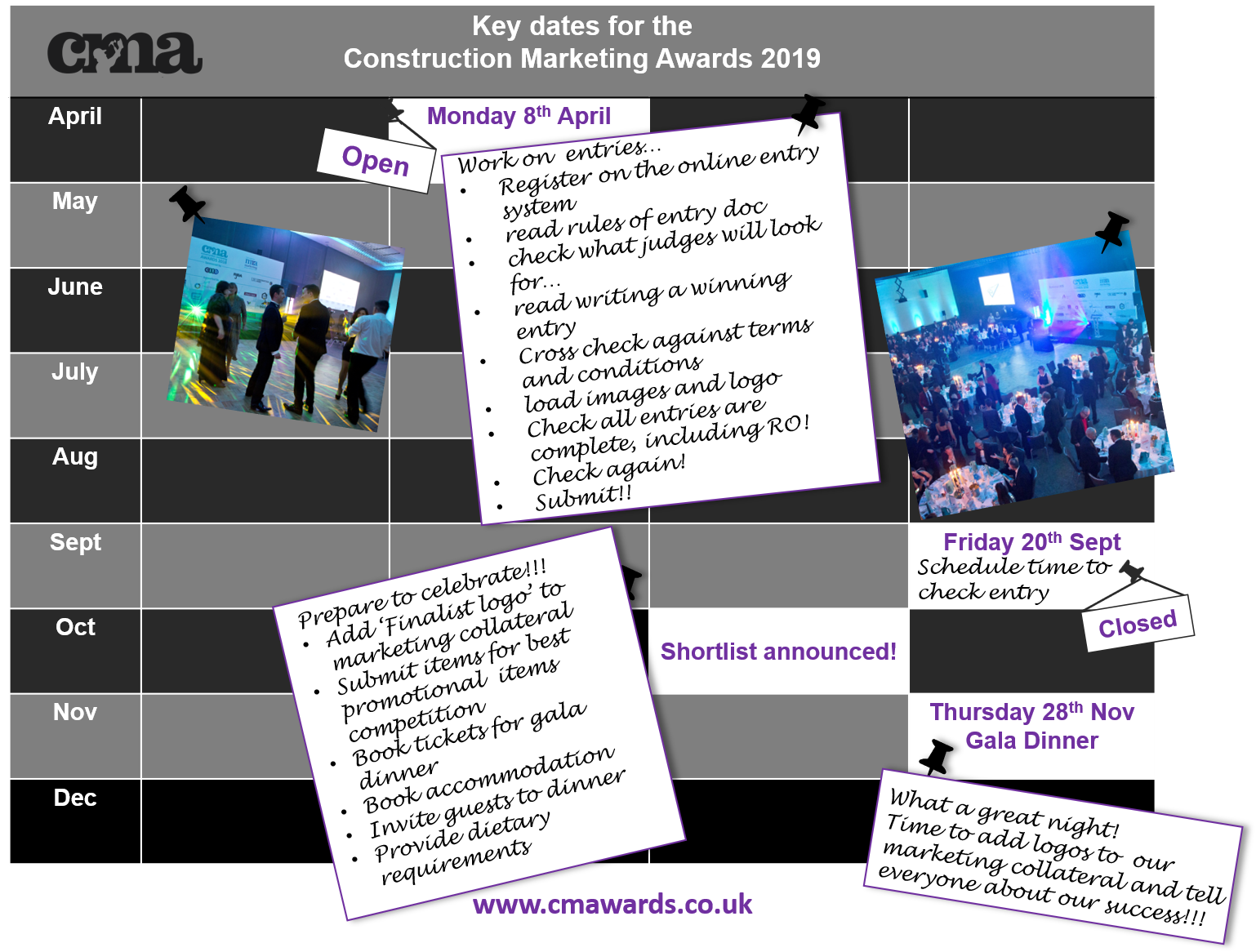 Further reading:
Why you should enter the CMAs
What are the benefits of entering the CMAs?
Does your CMA entry include everything the judges are looking for?